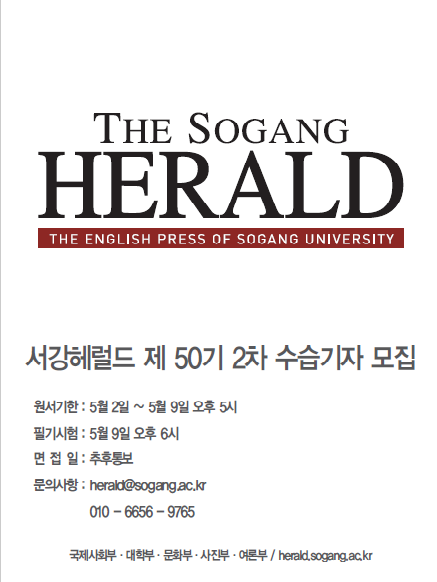 Over two hundred and fifty giants have successfully endured our rigorous yet prestigious training and call themselves proud alumnus of this company. The Sogang Herald has a strong alumni presence not only in Journalism, but also in Academia, Finance and Other Professional Services, Public Service, and Politics.
The Sogang Herald is looking for strongly motivated potential college journalists who are problem-solvers, team players, owners of a relentless curiosity and independent minds who seek to create their own paths. Bilingualism is a plus but not required, but coherent writing skills and a strong urge to create an impact are a must.
Reporters joining The Sogang Herald begin as Cub-reporters and are promoted and are compensated on a pay-grade system. Reporters and Editors are eligible for sponsored scholarships.
If you are interested in pursuing a career with us, download the application and
▶ Application Due: 5pm May 9th (Mon.)
▶ Written Test: 6pm May 9th (Mon.)
▶ Interveiw: May 10th and 11th
▶ Download Application:
Contact the following for more information;
Berchmans Woojeong Hall, Room B111
02-716-7417 / +82-10-6656-9765
herald@sogang.ac.kr
저작권자 © The Sogang Herald 무단전재 및 재배포 금지